Internet – Commerce: A Leading Industry Group
Though the U.S. stock market is entering a holiday-shortened week, investors are awaiting a spat of earnings from one of the strongest groups in the market – the Internet–Commerce group. Because the Internet–Commerce industry is ranked in the top 21% (ranked #52 out of 251) of industries tracked by Zacks, we expect it to outperform the major indices over the next 3 to 6 months.

Image Source: Zacks Investment Research
While the internet commerce industry was battered in 2022, it has outperformed the broader market from both a technical and fundamental perspective recently. That said, the industry is diverse and wide-ranging. For example, there is a plethora of domestic and international players, penny stocks and pricy stocks, and profitable and unprofitable companies.
Leaders vs. Laggards
Since the many businesses and stocks vary so much, we will use today's article to differentiate the leaders from the laggards and cover some key stocks in the group reporting earnings this week.
Leader
Zacks Rank #1 (Strong Buy) stock MercadoLibre Inc MELI is often dubbed the "Amazon of South America" and is the largest e-commerce platform in Latin America. The fast-growing company is based in Argentina but derives the largest portion of its revenue from the Brazilian market. While Amazon AMZN has a footprint in Latin America, MercadoLibre outpaces the e-commerce giant in the area and is the dominant player. Since becoming a public company in 2007, shares have been up more than 4,000%. Over the past ten years, the stock is up some 1,220.60% versus just 229.60% for the S&P 500 Index.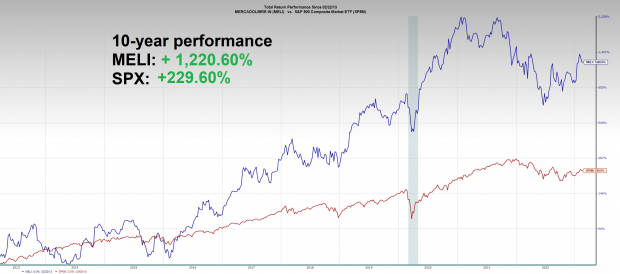 Image Source: Zacks Investment Research
Fundamental View: Looking back at MercadoLibre's fundamental history, it is easy to understand why the stock has been such a serial outperformer. Over the past two quarters, EPS grew
…
Read More