Introduction
In this article, we are going to take a deep dive into 2 of the most well-known companies in the world. Amazon (NASDAQ:AMZN) and Alibaba (NYSE:BABA) are known as giants in the e-commerce industry. The stock price of both companies has been under pressure over the last year due to post-pandemic slowdown in global economic growth. In addition, soaring inflation is affecting consumer spending, which has a direct effect on BABA and AMZN as well. In this write-up, we will take a look at the financials, risks, and opportunities for these companies and what to expect from the industry as a whole. We believe both companies could be great picks for the future, but as of now we believe BABA is slightly better at its current price.
E-Commerce and Where It is Heading:
Amazon and Alibaba are much more than just e-commerce businesses, but this remains the sector they are most well-known for. That said, e-commerce is expected to remain one of the highest growing sectors for the next decade. E-Commerce is one of the 10 sectors we are covering in our "10 Sectors Likely To Generate Good Returns In The Next Decade" series. As you can see in the chart below, e-commerce and online retail is expected to grow between 15% and 20% in the next decade (Period 2020-2030).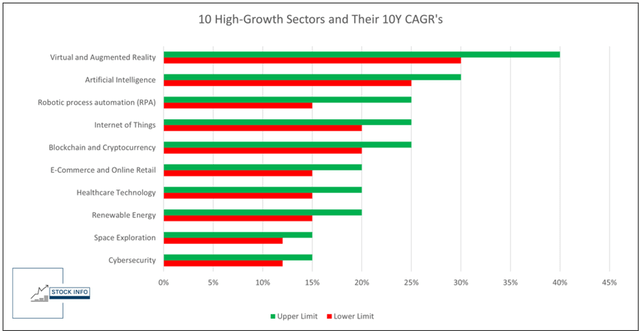 The Biggest Differences
First of all, we have to keep in mind that we are talking about the undisputed leaders in the e-commerce industry. Amazon is the number one e-commerce player in the United States, while BABA is the number 1 in China.
While there are many similarities between BABA and Amazon, there are key significant differences as well. First of all, they have very different markets. As mentioned above,
…
Read More