Rising Interest Rates
The Fed finally hiked rates by 0.25%, which was expected, and the dot plot indicates another six hikes taking the Fed Funds to around 2.0% by the end of the year. Also, the revised terminal rate for 2023 is up to near 3.0%, a huge jump from December's 1.60%.
Sure 2023 seems far away, but the timetable for rate increases could accelerate if inflation remains high, not to mention getting priced for certain investments well before the Fed makes additional announcements.
Many investors have been moving into value stocks and economically-sensitive companies that do well in an environment of strong growth and higher rates, especially with exposure to floating-rate assets.
This previously happened with business development companies ("BDCs") in early 2016 driving higher stock prices well before the Fed increased beyond 0.50% which directly impacts the underlying rates for BDC loans that are mostly at variable rates including Hercules Capital (HTGC) which is the company discussed in this article.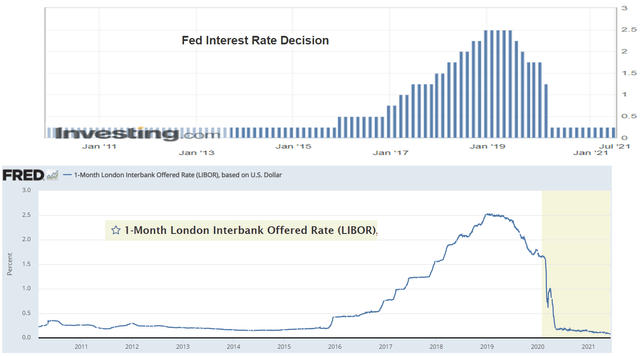 ---
Quick Introduction to Business Development Companies ("BDCs")
Business development companies ("BDCs") invest shareholder capital in privately owned, small- and medium-sized U.S. companies. BDCs aim to generate income and capital gains when the companies they invest in are sold, much like venture capital or private equity funds. Anyone can invest in BDCs as they are public companies, traded on major stock exchanges.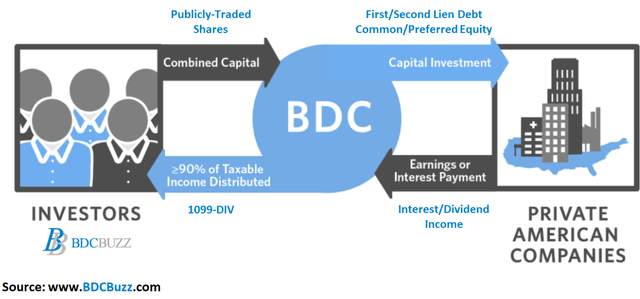 Similar to Real Estate Investment Trusts ("REITs"), Business Development Companies are regulated investment companies ("RICs") required to pay at least 90% of their annual taxable income to shareholders, avoiding corporate income taxes before distributing to shareholders. This structure prioritizes income to shareholders (over capital appreciation), driving higher annual dividend yields that mostly range from around 6% to 11%.
This article discusses HTGC which is currently one of the highest yielding BDCs at 11.2% likely due to being underpriced.
I firmly believe that higher-yield investments will become even more attractive in an inflationary and rising interest rate environment (as shown below), especially as investors are seeking additional income from invested capital.
---
Previous Changes in BDC Prices
As mentioned earlier, BDC prices climbed in early 2016 as the Fed started to raise rates including Hercules Capital and Ares Capital (ARCC) as shown below. During that period BDCs easily outperformed the S&P 500 and REITs after taking into account dividends paid. Please see the end of this article for some quick tables and discussion of recent returns.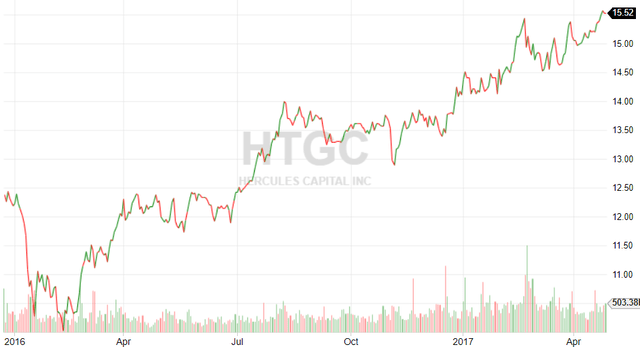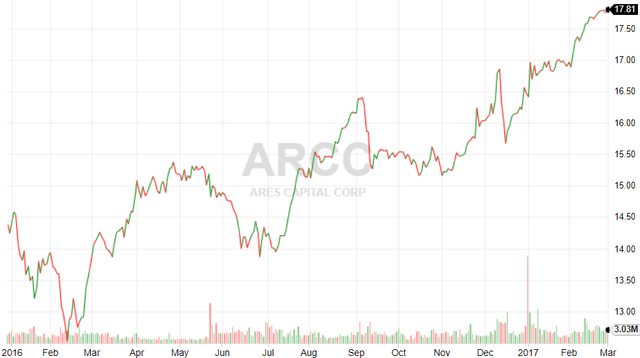 ---
Hercules Capital Quick Dividend Update
Author's Note: The following information was provided to subscribers of Sustainable Dividends along with three quarters of financial projections using base, best, and worst-case assumptions to test the sustainability of the current dividends for HTGC.
For Q4 2021, HTGC reported just above its best-case projections covering its regular dividend by 106%. There were plenty of variances during the quarter including a higher amount of unscheduled/early prepayments of $426 million driving leverage back down to a debt-to-equity ratio of 0.85 after taking into account $133 million of cash.
Early loan repayments were nearly $426 million, above the top end of our guidance of $300 million and a significant increase from $319 million in Q3. For the year, we had a record $1.1 billion of early payoffs, surpassing 2020's level of $709 million."
Source: HTGC Earnings Call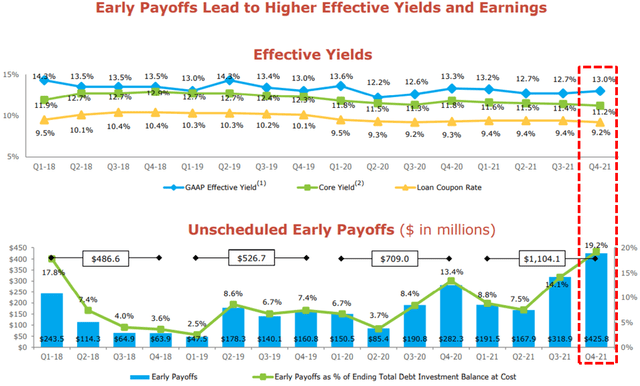 ---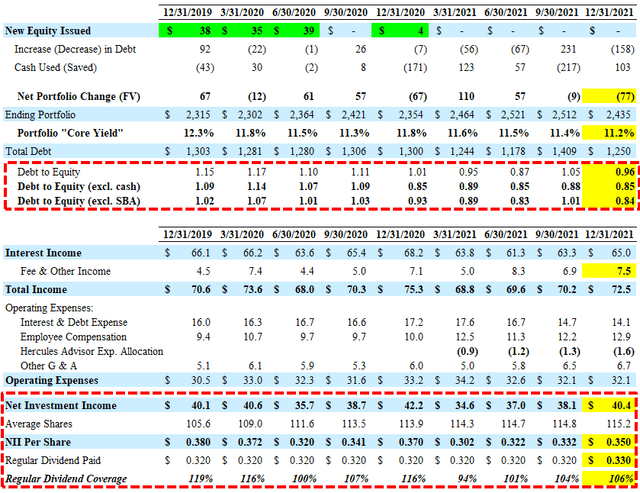 ---
However, I have recently updated projections for HTGC take into account the following guidance from management likely resulting in the company not covering its Q1 2022 regular dividend due to the following factors:
Lower prepayment-related income
Duplication of borrowing expenses related to the recent refinancing of notes
Higher payroll tax incurred in Q1
Lower expense reimbursements from the adviser
1 million additional from the recently repaid convertible notes
All of these were discussed on the recent call:
Regarding the settlement of the $230 million of convertible notes. As a reminder, we elected to settle the principal in cash and the option value in shares. The option settlement resulted in the issuance of just under 1 million shares, which will impact the Q1 net asset value and have a short-term dilutive impact on net investment income. This, combined with the lower expected prepayments in Q1, fewer calendar days in the quarter, and as I mentioned before, higher payroll taxes will likely lead to lower net investment income per share in Q1 as compared to Q4."

"Although very difficult to predict, as communicated by Scott, we expect $150 million to $250 million in prepayment activity in the first quarter. Consistent with 2021, we expect first quarter prepayments to result in a lower acceleration fee recognition rate of 2.5% to 3% due to the average vintage of the prepayments."

"We expect our first quarter interest expense to remain stable compared to the prior quarter. Although we have continued to lower our long-term cost of debt, the refinancing completed in the first quarter results in some duplication of costs related to the time of execution of borrowing and repayment of the two instruments. For the first quarter, we expect gross SG&A expenses of $19 million to $20 million, with the midpoint being consistent with the fourth quarter. As a reminder, the first quarter always has higher payroll taxes. In the first quarter, we expect a similar level of RIA allocation to what we saw in the second and third quarter of 2021, so $1.2 million to $1.3 million, as the fourth quarter was elevated due to higher originations and allocated business."
Source: HTGC Earnings Call
Since the close of Q4 2021 the company has closed new debt and equity commitments of almost $240 million and funded almost $118 million with pending commitments of $382 million:
The momentum that we saw throughout 2021 has carried into 2022, and we are pleased by our performance on originations quarter-to-date. Since the close of Q4 and as of February 18, 2022, Hercules has already closed $238.5 million of new commitments, and we have pending commitments of an additional $382.3 million in signed nonbinding term sheets."
Source: HTGC Earnings Call
Last month the company announced an increase in the supplemental dividend paid in March 2022 from $0.07 to $0.15 per share plus its regular dividend of $0.33 per share for a total of $0.48 per share. The increase was driven by "a new supplemental cash distribution of $0.60 per share, to be distributed equally over four quarters."
For the year 2021, inclusive of Q4, we have declared $1.66 of distributions to our shareholders, which is a 23% increase over the same period last year. Given the positive outlook that we have on our business, in combination with our record undistributed earnings spillover of approximately $192.1 million or $1.65 per share, our Board of Directors have approved a new supplemental cash distribution program of $0.60 for the next 4 quarters, payable $0.15 per quarter beginning with Q4 2021, which was previously $0.07 per quarter. The undistributed earnings spillover continues to provide us with added flexibility with respect to our shareholder distributions going forward and the ability to continue to invest in our team and platform."
Source: HTGC Earnings Call
The $0.15 per share supplemental cash distribution will be paid out of undistributed taxable income (taxable income in excess of distributions paid) which was around $192 million or $1.65 per share as of Dec. 31, 2021. This was discussed on the recent call with management mentioning that $0.60 per share of supplementals in 2022 is to reduce the amount of spillover closer to $1.00 and assumes no additional "realized activity" which likely includes realized gains but also over-earning the regular dividend. This implies that there is a good chance of additional supplemental dividends announced later in the year.
Q. "The shareholders are benefiting right now from the special distributions working down what is a large amount of spillover. What do you need to get that spillover down to where you're comfortable you're not going to feel the need to push out the special supplemental distributions any longer?"

A. "Yes. I think you hit the nail right on the head there. There is no preset sort of target. But in an ideal situation, we would work that spillover down to about $1 per share. Right now, it's at $1.65 per share. If you assume no activity in the course of 2022, which is obviously not a real expectation, but if you just sort of model it out, if we did nothing from a realized activity up or down in 2022 with the $0.60 supplemental distribution that we declared now, we would get that $1.65 down right roughly to about $1.00 per share at the end of 2022, assuming no other changes.
Source: HTGC Earnings Call
---
BDC Net Interest Margins and Interest Rate Sensitivity
Net interest margins are the difference between interest income from portfolio investments and interest expense on borrowings/debt. Most BDCs used the recent pandemic to strengthen their balance sheets including lowering the overall amount of the leverage converted to mostly longer-term unsecured borrowings at extremely low fixed rates. Also, most BDCs continue to position their portfolios away from cyclical sectors and into growth, technology, defensive sectors that will continue to do well over the coming quarters.
These changes have resulted in much stronger balance sheets ready for anything from an economic recession to an overheated economy driving inflation and higher interest rates.
As shown below, HTGC has a very strong balance sheet (from a liability standpoint) with 98% at fixed rates once the SBA debentures are reset at the pooling date. Also, 94% of its debt portfolio is floating rate loans that will benefit from rising rates after taking into account floors.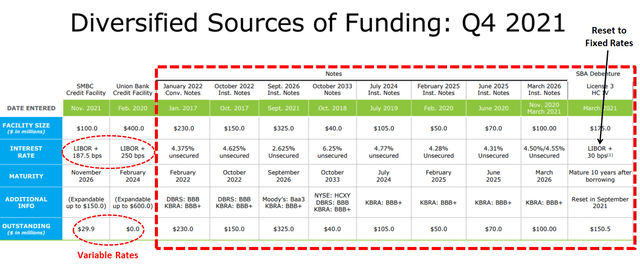 Most BDCs provide the potential impact to earnings based on changes to interest rates including HTGC below but please keep in mind that the earnings per share ("EPS") uses weighted average shares of 115.2 million discussed next.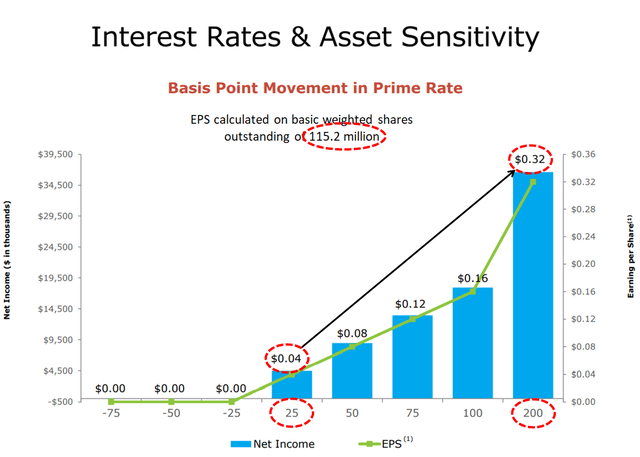 For each of the BDCs that cover I provide the following analysis showing the changes in earnings through 300 basis points. However, I have used the total amount of shares as of Dec. 31, 2021, which is why it shows an increase of $0.31 per share for 200 basis points.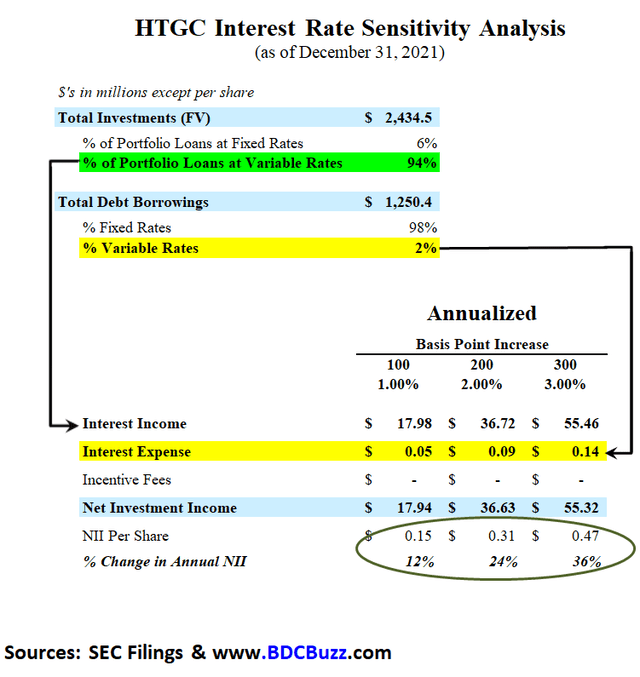 As mentioned earlier, the company is currently paying a regular quarterly dividend of $0.33 per share or $1.32 annually plus $0.60 per share of supplementals for a total of $1.92 per share in 2022.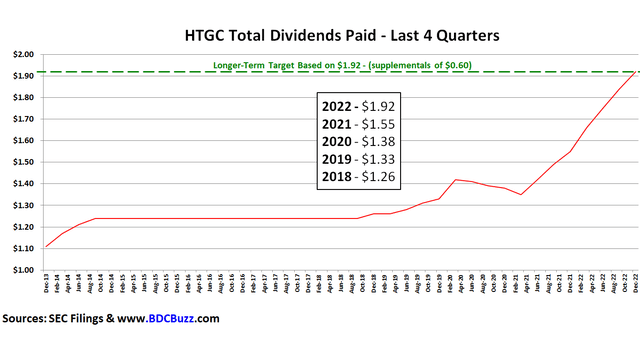 This would imply a current dividend yield of 11.2% assuming no additional dividend increases potentially driven by higher rates on portfolio investments and/or realized gains from selling equity positions. As shown below, HTGC has among the highest yield in the sector which is typically reserved for risky BDCs such as FSK and AINV around the same yield. However, there's a good chance that investors are not taking into account the supplemental dividends which are likely going to continue in 2023 and 2024 as discussed earlier as we as the potential for dividend increases.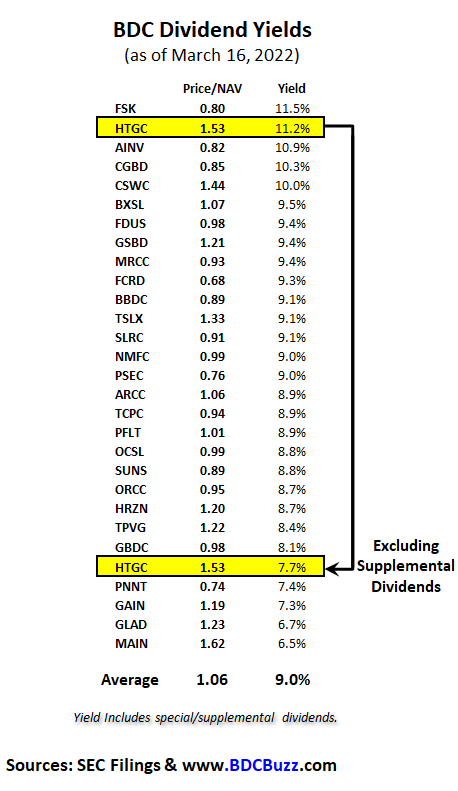 ---
Comparing Recent Returns
In 2021 and to a greater extent so far in 2022, BDCs have easily outperformed the general markets as well as other higher-yield investments likely due to their strong positioning for rising rates as well as improved credit quality.
As a quick follow up to the article last month "REITs Vs. BDCs: Comparing Returns" the following tables show the updated returns over the last two years including WF BDC Index ETN (BDCZ) which continually underperforms the average for the reasons discussed in "ETFs Are The Worst Way To Invest In This High-Yield Sector." The "Other BDCs" include many of the lower performing companies that I do not actively cover including SLRC, SCM, OXSQ, PFX, BKCC, FCRD, and LRFC.
The following tables assume that you purchased each position at the close of Dec. 31, 2019, and sold at the close of Mar. 16, 2022, collecting (not reinvesting) the dividends (includes paid, accrued, specials, and supplementals). The "Annualized" return shown does not use a simple average but shows the actual compounding of annual returns. This is the true return each year. Clearly, HTGC has done well and I'm expecting the stock to rally beyond previous levels through the end of 2022.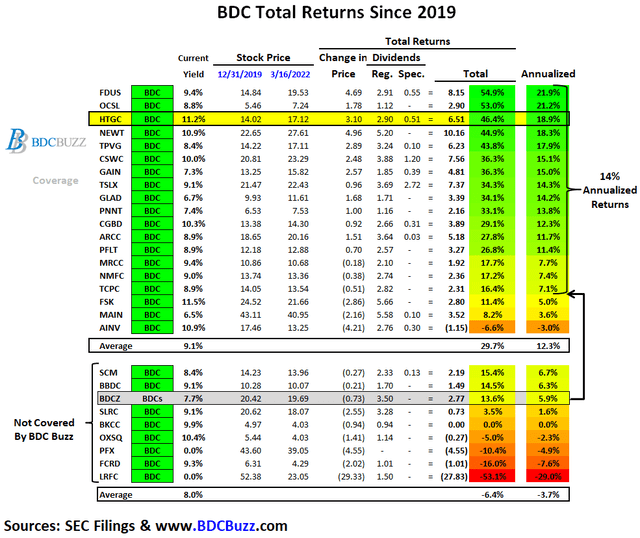 The following tables show the updated comparable REIT returns for many/most of the popular companies discussed here on Seeking Alpha along with the Vanguard Real Estate Index Fund (VNQ) and a Mortgage REIT Index (REM) which have outperformed many/most REITs.
As mentioned in previous articles, I only invest in VNQ (during market pullbacks) for my REIT allocation which has easily outperformed many of the popular and/or larger REITs including AMT, ELS, ESS, ADC, PSB, WPC, FCPT, NNN, EQR, MPW, WELL, SPG, O, VTR, and STOR.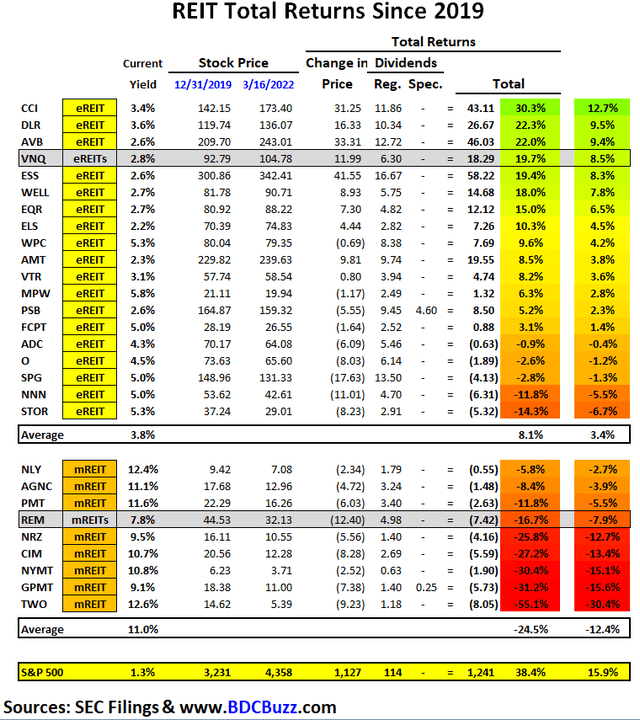 The only time I use tables with calendar measurements of total returns is to compare with other investments over the same period. However, nobody buys a stock at end of the trading day on Dec. 31 and simply holds without buying more on the dips. At least not my savvy subscribers.
As suggested in previous articles, adjust portfolio allocations including higher amounts of BDCs compared to REITs which continue to struggle and will likely continue throughout 2022. See table at the end of the article.
For the same amount of income with less risk, it's better to invest 50% less capital in BDCs at 9.1% compared to equity REITs at 2.8% to 3.8%. If you're investing mostly for higher yield it's better to use a typical/average BDC vs. mREITs which are terrible long-term holdings but can provide higher yields and returns if traded correctly.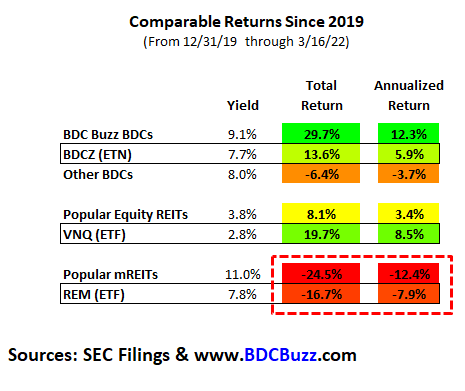 The following table is ranked by worst-performing year-to-date equity REITs which is quite a bit considering we're less than three months into the year: