PayPal (PYPL) stock has been crushed since releasing fourth quarter earnings, continuing a slide that has left the stock trading at a fraction of where it was trading only several months ago. The company guided for a steep slowdown in growth in 2022, but growth is expected to accelerate as it moves beyond struggles related to eBay (NASDAQ:EBAY). The company is buying back stock and with the valuation at a low 24x earnings, the share repurchase program may play an increasingly important role moving forward. I rate the stock a strong buy as I have finally purchased the stock myself for my portfolio.
How Did PYPL Stock Do In 2021?
PYPL started 2021 with strength, at one point trading up 30% for the year. The stock tumbled as it closed the year, and continued falling. The stock is now down over 60% from recent highs: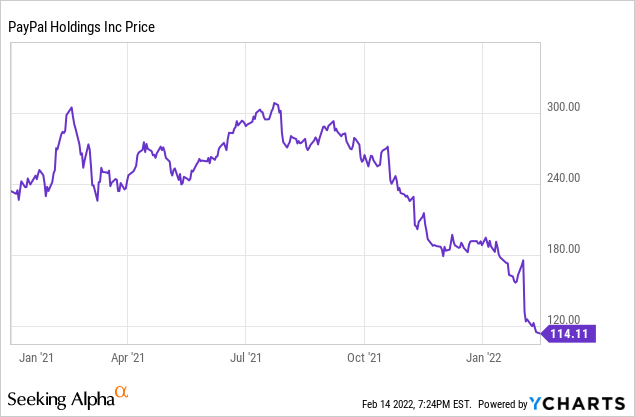 The tumble appears to be due to conservative guidance for 2022, but with the stock trading at 24x earnings, it is worth buying here.
What Is PayPal Stock's Price Target?
In spite of the steep fall, Wall Street analysts remain optimistic for the stock's forward prospects. The average rating is 4.27 out of 5, a solid buy rating.

The average price target is $182.54, representing a 60% potential upside.

It is unusual for the consensus price target to represent so much upside for a high-quality stock like PYPL which is flowing cash with solid growth ahead of it. Let's dig deeper to understand why the stock has fallen but more importantly, why I see great upside ahead.
PYPL Stock Key Metrics
PYPL continued to grow its active accounts base, albeit at a decelerating rate.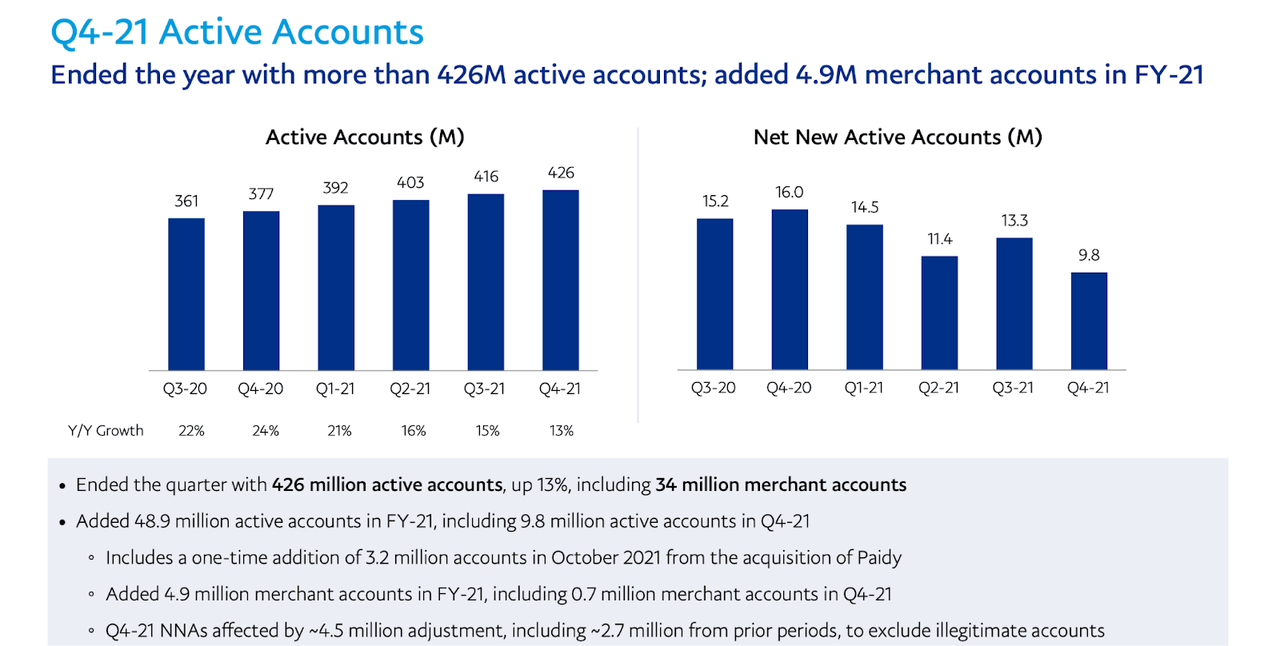 The company expects further pressures as it removes illegitimate accounts. Revenue growth also decelerated to 13%, though that was mainly impacted by eBay's move to its own payment platform. Excluding eBay, revenue growth came in at 22%.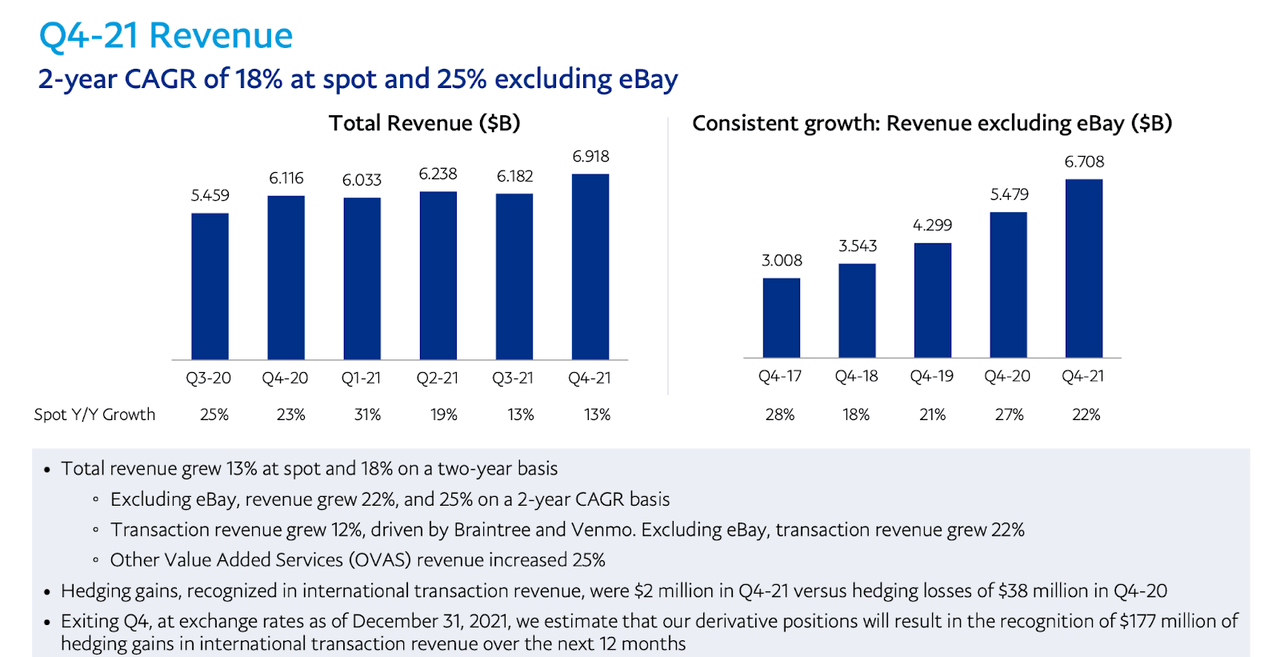 Operating margins declined from 24.7% to 21.8%, compounding the negativity.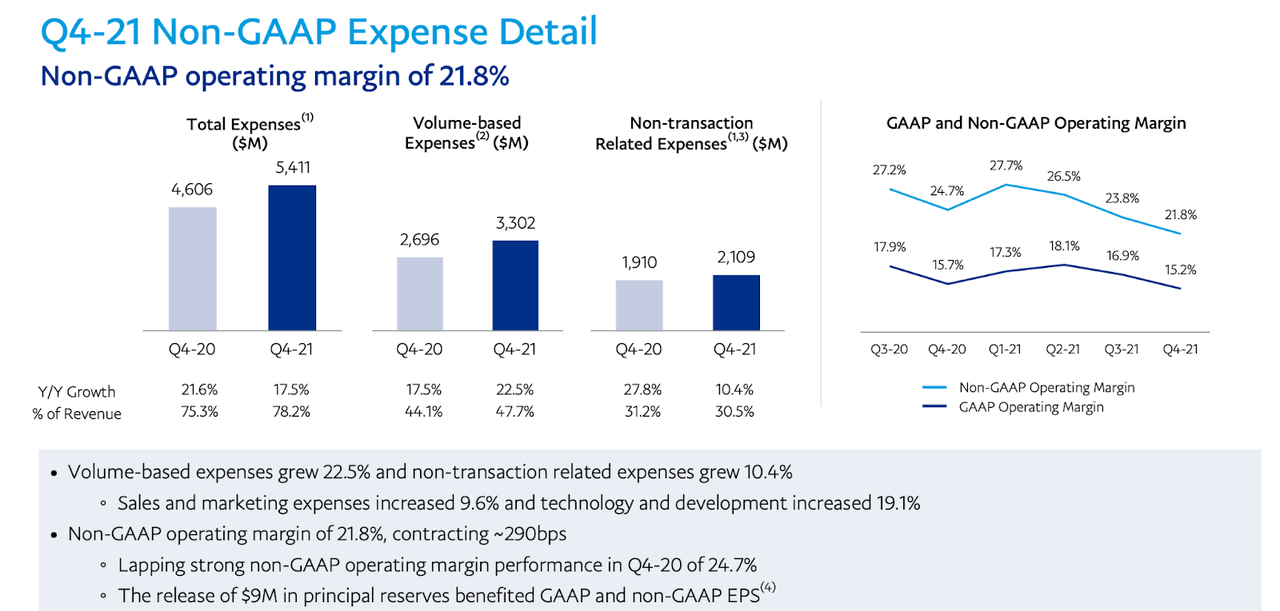 The one bright spot was the 38% increase in free cash flow, which soared to $1.6 billion in the quarter. PYPL ended the quarter with $7.3 billion of net cash.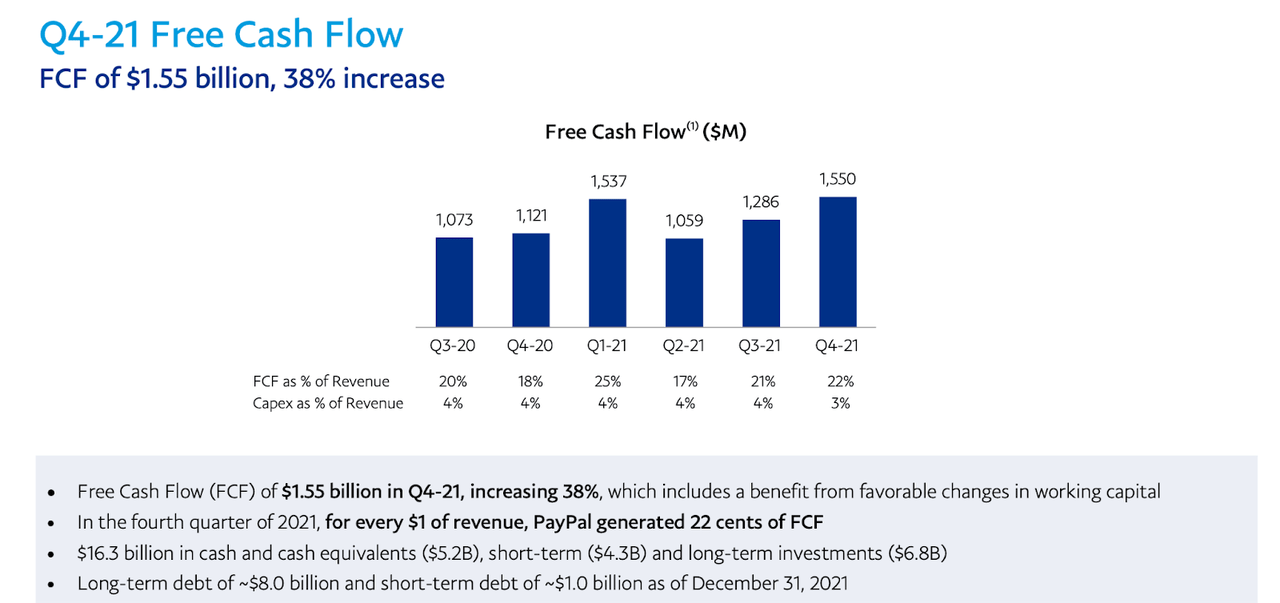 What Should Investors Watch For In 2022?
Looking forward, PYPL guided for 2022 to see only 15% to 17% revenue growth. Earnings per share are expected to grow by only 3% at the high end of guidance.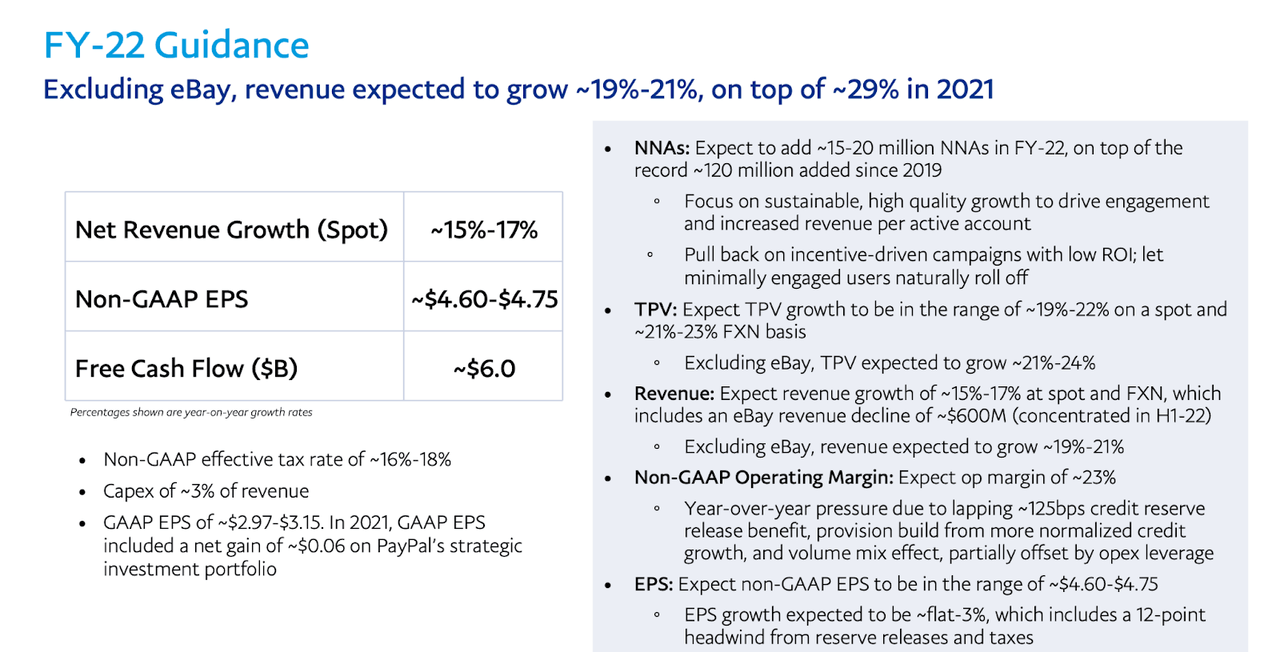 That steep slowdown explains the crash in the stock price, but investors with longer-term time horizons may find the volatility to be a buying opportunity. Much of the 2022 slowdown will occur in the first two quarters, as PYPL still needs to lap the remaining quarters of eBay's transition to its own payment platform. After that, PYPL expects to return to over 20% growth on both revenues and earnings per share.
"we will drive increased operating leverage in order to enter 2023, with revenues and non-GAAP EPS growing at over 20%." (2021 Q4 Conference Call)
Critically, PYPL reaffirmed its 2025 outlook for over $50 billion of revenues and $10 billion of free cash flow. I note that consensus estimates call for $50 billion of revenue by 2025 – it appears that Wall Street no longer has confidence that PYPL will outperform its medium-term guidance.
The most important long-term growth driver is that of Venmo, which PYPL has only begun to monetize. On the conference call management noted that Venmo pulled in $250 million of revenue at an 80% growth rate in the fourth quarter. I expect the combination of moving past eBay and Venmo to help the company sustain strong growth rates over many years.
Beyond these two factors, PYPL is also aggressively investing in its buy now, pay later segment. PYPL has already reached over $1 billion in total payment volume on a global scale.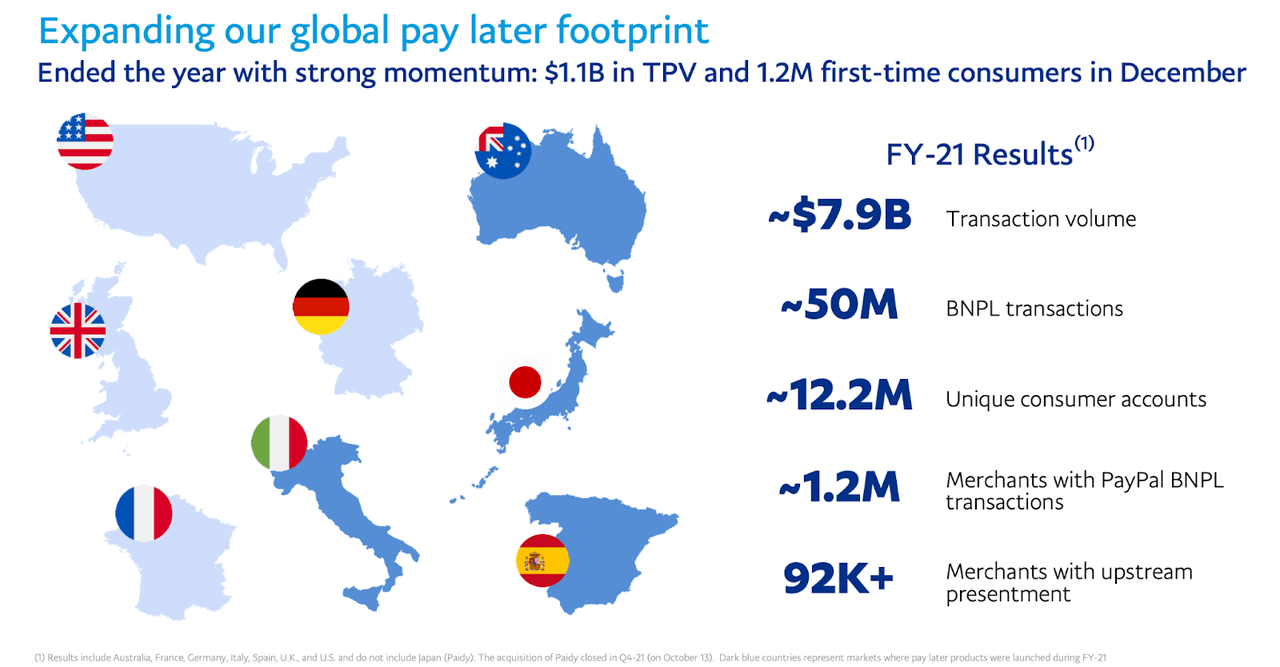 PYPL typically has traded very richly, but the recent stock slide may alter its capital allocation decisions. Historically, PYPL has not aggressively repurchased stock.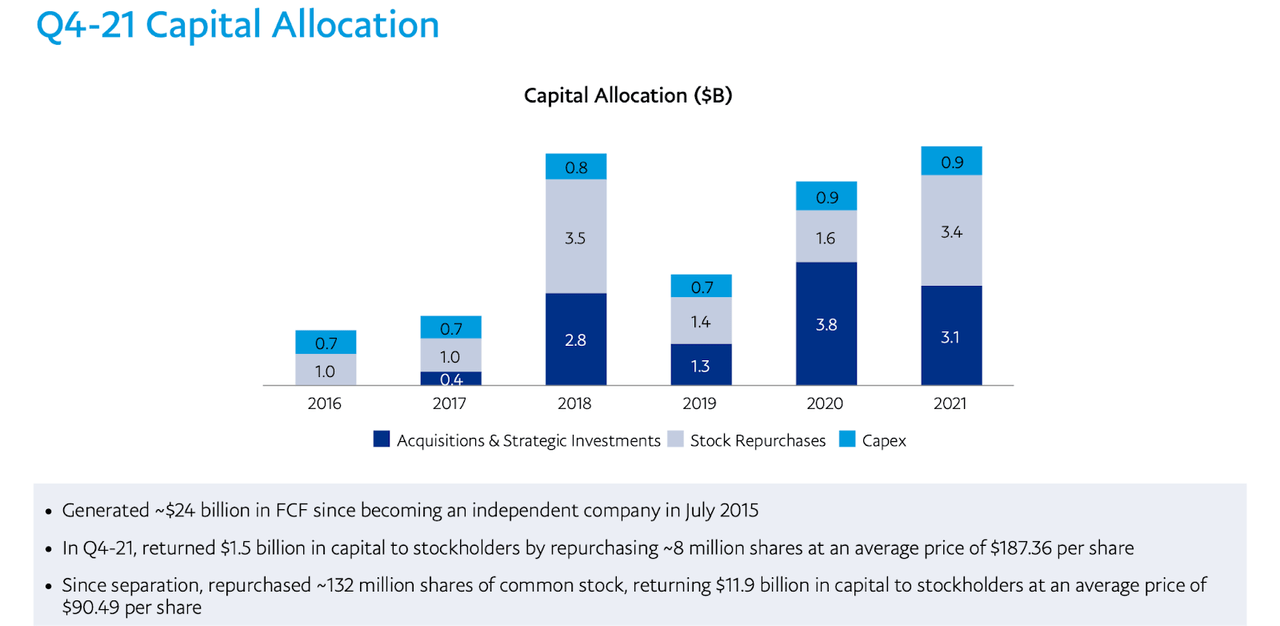 With the stock trading where it is, I expect PYPL to step up share repurchases to take advantage of the lower prices.
Is PYPL Stock A Good Long-Term Investment?
Over the long term, I expect PYPL to prove to be a wonderful investment. In a nutshell, the investment thesis for PYPL is that it is the dominant digital wallet, with 76% acceptance across the largest online retailers.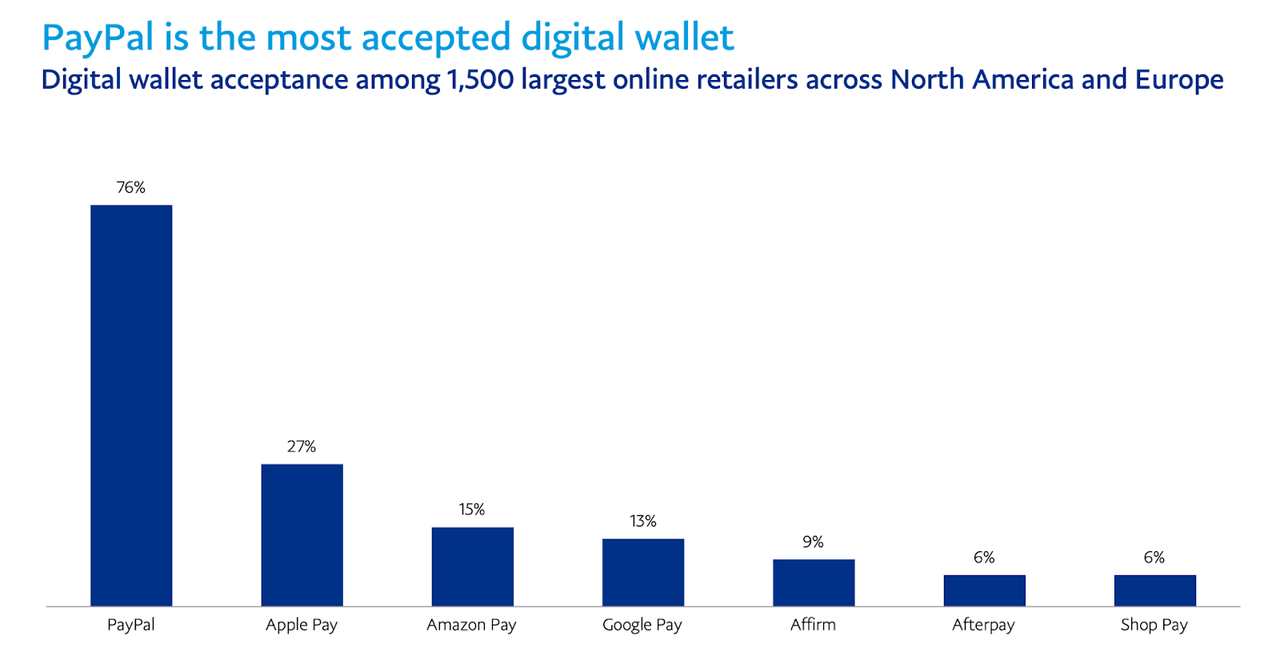 PYPL solves the first-world problem of saving credit card information to the PayPal account, so consumers get a seamless checkout experience across any merchant in the PayPal network. While 2022 is expected to be a muted year for growth, PYPL is expected to rapidly grow earnings over the next decade.

Is PYPL Stock A Buy, Sell, Or Hold Now?
With the stock now trading at 4.5x 2030 estimates, there clearly is upside potential. I note that 2030 estimates for earnings represent a 30% net margin based on 2030 revenue estimates of $98.5 billion. That kind of margin profile looks conservative considering that operating margins currently hover around 23%. This is a good moment to note that many company insiders have taken advantage of the volatility to do some insider buying:

I consider insider buying to be meaningful when the following two criteria are met:
Both of these criteria are met in the case of PYPL, which is not surprising considering the undervaluation. I can see PYPL trading at 30x earnings in 2030, representing a 1.7x price-to-earnings growth ratio ('PEG ratio'). That presents 570% potential upside over the next nine years, for compounded annual return potential of 23%. This isn't the highest potential return offered in the tech sector, but the risk is lower at PYPL considering their dominant market position, solid balance sheet, and robust free cash flow generation. The company is doing everything right to return to a premium multiple – focusing on execution while rewarding shareholders with share repurchases. The main risk I see with PYPL is competition from the likes of Apple Pay (AAPL) and Shopify Pay (SHOP). Apple Pay presents an interesting risk in that it potentially offers the same convenience as PayPal, but users might set up only Apple Pay and skip on setting up PayPal. This risk has not yet materialized because PayPal is available on so many more merchant websites. With Shopify Pay, the risk is that PayPal loses business from Shopify platforms because Shopify might steer consumers towards its own payment solutions. These risks may play out over the long term – in the near term I expect PayPal to outpace the secular growth of e-commerce. I rate PYPL a strong buy and have finally purchased shares myself, as the stock presents a sizable return proposition from a lower risk name.